Home > 03 Dec 2011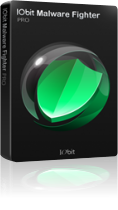 IObit Malware Fighter
Keep your PC spyware-free
IObit Malware Fighter is a straightforward antispyware tool that can protect your PC in several different ways.
For example, you can run an on-demand scan to look for spyware, adware, trojans, bots, and other threats that your regular antivirus software might have missed. The "Smart Scan" checks only the most critical areas of your PC, and runs fairly quickly (around 7 minutes on our test PC); you can run a complete system scan if you prefer, while the "Custom Scan" allows you to choose exactly what you'd like the program to examine.
And Malware Fighter also includes real-time protection in the shape of five guards, which variously monitor your startup programs, browser settings, cookies, the web pages you view, and the files you access.
If you want scheduled scans, protection for USB viruses, process scanning or technical support then you'll need to get your serial code for Malware Fighter Pro
Note that IObit Malware Fighter works as freeware until you request your serial code and turn it in to the Pro version.
Today's Price:
FREE
Saving
£18.56
(100%)
Sorry, due to licensing restrictions, this offer is not available in your country/territory. Try again tomorrow.
How To Get Your Serial Code
Simply click on the "get serial code" to obtain your unique serial code. Note that serial codes are limited to one code per user.
Upgrade offer: take a look at other IObit software
IObit produce a range of optimisation, tuning and security applications which enable you to get the most from your PC. Go to the IObit area at the Expert Reviews Software Store, http://store.expertreviews.co.uk/?act=search&brand=219. IObit Password Folder will enable you to protect important folders and files, whilst Advanced SystemCare Pro is the flagship system maintenance tool.